22 Jun 2022
Biodegradable Bento Box with Compartment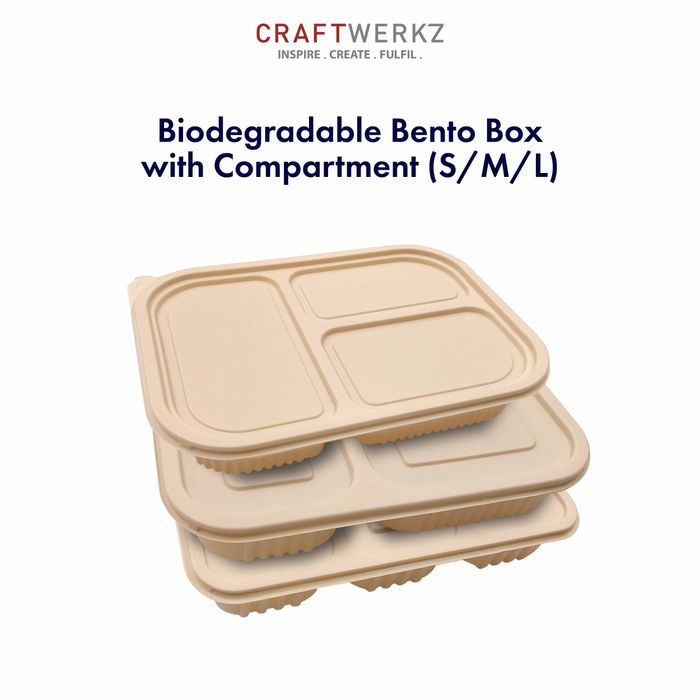 Features:
Material: Biodegradable Cornstarch
Cornstarch raw material: An alternative to plastic. An environmentally friendly material that can be naturally biodegraded by microorganisms & enzymes in the natural environment.
Leak-tight seal: Sealed & leak-proof, bid farewell to oily hands
Inner buckle design, takeout bumps, but also can be firmly locked
Water & oil-proof, microwaveable, refrigerated
High temperature resistance 100 degrees to low temperature resistance: -5 degrees
Cat ear handle design: Easy to lift & open the lid, convenient and practical
Thickening & pressure resistance, at strong bearing capacity, multi-layer stacking, anti-extrusion, not easy to break.
Measurements:
Small [3 Inners](1,000ml): 268mm (Length) x 195mm (Width) x 45mm (Height)
Medium [4 Inners] (1,300ml): 230mm (Length) x 230mm (Width) x 45mm (Height)
Large [5 Inners] (1,500ml): 228mm (Length) x 228mm (Width) x 46mm (Height)