22 Jun 2022
Brown Kraft Packaging Box with PP Lid (S/M/L)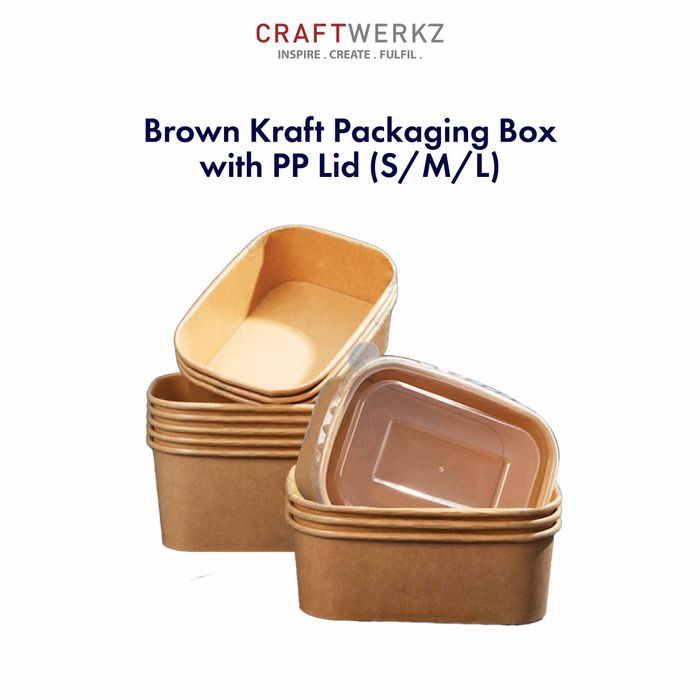 Features:
Environmentally friendly
Smooth & rounded corner design on all sides of the lunch box
Built-in matte food grade PE coating: waterproof, oil-proof & anti-leakage
Raw material has uniform burrs/edges/ridges compared to others that are rougher
Stiffness/sturdiness: Does not deform even if pressure is applied with fingers, thick design, solid material with high durability
Good sealing & thermal insulation
Plastic cover with pull-up design for easy access
Can be heated in the microwave for a short period of time and can be refrigerated for food preservation.
Note: Plastic cover cannot be placed in the microwave.
Material: Kraft Paper Cover: PP material (heat resistant)
Uses: Fried rice, noodles, fruit, dessert etc.


Measurements:
*Small - 500ml*
Upper Opening: 172mm (Length) x 120mm (Width)
Bottom: 145mm (Length) x 100mm (Width)
Height: 47mm
*Medium - 750ml*
Upper Opening: 172mm (Length) x 120mm (Width)
Bottom: 150mm (Length) x 98mm (Width)
Height: 58mm
*Large – 1,000ml*
Upper Opening: 172mm (Length) x 120mm (Width)
Bottom: 145mm (Length) x 85mm (Width)
Height: 76.5mm