22 Jun 2022
Brown Kraft Salad Bowl with PP Lid (S/M/L)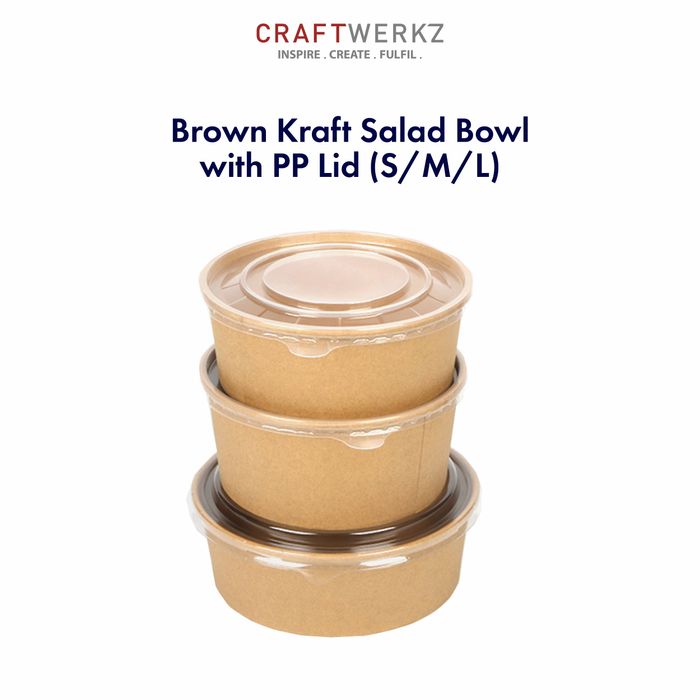 Some of the Brown Kraft Salad Bowls with PP Lid unique functions:
- PP Lid can be used for both hot & cold
- PP Lid is non-toxic & odorless and is made out of quality thick material.
- Kraft Bowl is environmentally friendly & biodegradable, non-toxic.
- Kraft Bowl has heat insulation & anti-scalding
- Food grade material, built-in waterproof coating to prevent leakage.
- Microwavable up to 120 degrees (without the PP Lid) and stored in the freezer up to - 20 degrees.
Dimensions:
- Small Kraft Salad Bowl (750ml): 60mm(Height) x 128mm (Bottom Diameter) x 150mm (Top Diameter)
- Medium Kraft Salad Bowl (1,000ml): 78mm(Height) x 128mm (Bottom Diameter) x 150mm (Top Diameter)
- Large Kraft Salad Bowl (1,300ml): 65mm(Height) x 163mm (Bottom Diameter) x 184mm (Top Diameter)