22 Jun 2022
Disposable Brown Kraft Paper Bowl with Lid (XS/S/M/L)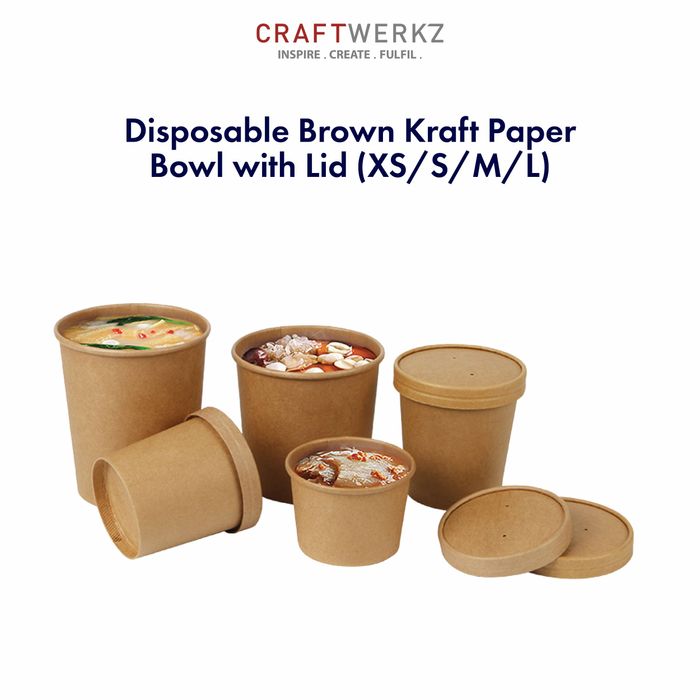 Here are some of the unique functions:
- Ventilation holes on the top of the lid perfect for hot foods and won't swell easily.
- Made out of 350grams of food grade paper, won't break easily and will last long.
- Waterproof & oil-proof, anti-leakage and can hold water well with built-in 18PE coating in bowl.
- Bottom indentation is tight & waterproof.
- Environmentally friendly & biodegradable, non-toxic.
Dimensions:
Paper Bowl
- Extra Small Paper Bowl (300ml): 60mm(Height) x 81mm (Bottom Diameter) x 98mm (Top Diameter)
- Small Paper Bowl (360ml): 70mm(Height) x 81mm (Bottom Diameter) x 98mm (Top Diameter)
- Medium Paper Bowl (460ml): 102mm(Height) x 74mm (Bottom Diameter) x 98mm (Top Diameter)
- Large Paper Bowl (900ml): 128mm(Height) x 94mm (Bottom Diameter) x 118mm (Top Diameter)
Kraft Paper Lid
- Diameter 98mm (Can fit XS, S & M Paper Bowl)
- Diameter 118mm (Can fit L Paper Bowl)