11 May 2022
AD Press Pte Ltd Took The Lead Into Online Printing During Covid-19 Period To Digitalise Our Business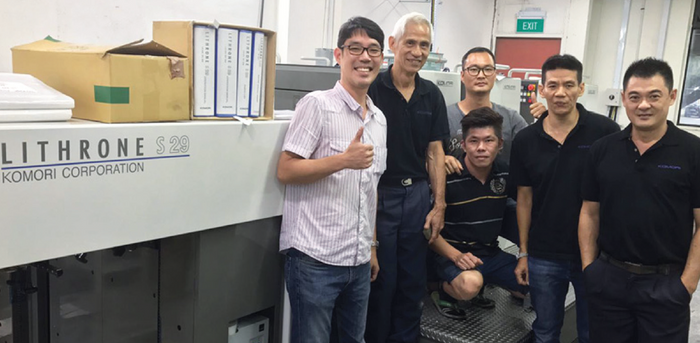 More Than 5 Printers Took The Lead Into Online Printing During Covid-19 Period To Digitalise Their Business
On 7th April 2020, Singapore entered the circuit breaker (CB) period to limit the spread of COVID-19. Majority of the printing companies were forced to shut during the initial weeks of circuit breaker , but there was a group of printing companies who did not rest on their laurels and began planning for the future. More than 5 printing companies, including AD Press, Allegro Print, 2B Printing, Instant Digital Services and MoretoPrint took the head-start to implement web-to-print (online printing) during various phases of circuit breaker.
What is Web-to-Print?
Web-to-print software is an ecommerce solution for the printing industry. It is a cloud-based solution that enables the creation of a mobile responsive ecommerce website for printers to sell their printing online. And when it comes to ecommerce, there are plenty of printing products that can be sold online including stationery printing, commercial printing, and large format printing. During the circuit breaker period, the printing industry experienced an increase in print orders for hand sanitiser labels, general packaging boxes, food packaging boxes, food labels and social distancing stickers. Physical products such as display stands, Q-poles, acrylic shields and face masks can be sold online too.
AD Press used web-to-print ecommerce to share new print products with their customers and to provide an online platform for them to easily browse and order.
THE CIRCUIT BREAKER PROBLEMS AND OPPORTUNITIES
Circuit Breaker came as a shock to many businesses as they were forced to close, and it created an initial rush as printers raced to answer customers' calls on their print jobs while delivery drivers hurried to complete their deliveries. Once the dust settled, many
businesses began to feel the void as the tight restrictions left many businesses in limbo while they struggle with zero sales and high operating costs. However, one business segment saw their businesses skyrocketed – ecommerce. Both retail consumers and corporate customers began turning to online ecommerce stores to scramble for necessities and supplies as they were the only options available. Even hawkers took the initiative to set up their ecommerce to allow their customers to continue ordering food from them.
Several printing companies also saw the need to digitalise their business as they sought to move away from the traditional brick-and-mortar setup by transiting into a dual pronged approach of a physical setup and an ecommerce store. This will allow businesses to continue even if printers can only operate behind closed doors and enable customers to order printing from them at home.
HOW DOES WEB-TOPRINT SOLVE THE PROBLEM?
The web-to-print software from RHS Asia comes with both B2C (businessto-consumer) and B2B (business-tobusiness) options. Printers that want to diversify their clientele portfolio can explore B2C ecommerce to bring awareness to the business and gain
new customers. Printers will also occasionally encounter corporate
buyers via their B2C ecommerce and it gives them the opportunity to build the initial relationship before turning them into a corporate account.
For corporate customers, working from home makes it difficult for
sales managers and designers to coordinate their orders and artworks with them. This can be simplified with a secured corporate B2B portal where corporate buyers can reorder their printing via their own customised storefront. Other B2B features include approval settings, department budget, order email notifications, inventory etc.
Ecommerce is not new to Allegro Print, but the upgrade to OnPrintShop web-to-print provides new features and an easy-to-use ecommerce which can be easily managed by the current team.
POST-CIRCUIT BREAKER AND THE NEW NORMAL
COVID-19 forced many people and businesses to adopt new technologies which they previously did not manage to learn. From scanning QR codes for safe-entry to shopping online, COVID-19 changed the way how people lived as they grapple with technology and life post-COVID-19.
As people began to accept ecommerce as a part of their lives,
what it means for printers is the opportunity to change their business
model and to accept the new normal. Technology adoption and awareness will further encourage consumers and corporate customers to order printing online and will continue to be an
important trend in the years ahead.