Alcohol Consumption - Serving & Sampling
The consumption of alcohol within the halls during build-up and breakdown is not permitted. Alcoholic drinks will not be available from the catering outlets within the halls during these times. Guidelines on Alcohol Sampling can be found under Food Sampling and Safety Regulations – Alcohol Sampling and Serving. If you intend to serve Alcohol as Hospitality, please see the information under Catering – Stand Hospitality.

ATMs & Financial Services
Suntec City offers a host of convenient banking services. Please click here for more information.

Badges & Passes
No one will be allowed access to the halls without registering, whether exhibitor, contractor, or visitor. This applies at each point of entry to the venue. During build-up and breakdown, everyone who needs to access the hall must have read and understood the Site Rules which will be sent closer to the event, and confirmation that they have been read and understood is required before entry is permitted.
Registration Deadline: 10th June 2022
Exhibitor badges are to be collected at the Exhibitor Registration Counter outside the hall during the build-up days on 20 & 21 June 2022.
Kindly take note of your badge entitlement below:
| | |
| --- | --- |
| Booth Size | No. of Badges |
| Start-up Village and 6sqm | 2 |
| 9sqm | 4 |
| 15sqm - 18sqm | 8 |
| 27sqm | 12 |
| 36sqm | 16 |
| 54sqm | |
Should you have any questions regarding inputting of exhibitor badges, kindly contact jared@montgomeryasia.com.
Exhibitor Badges give you access for the build-up, open and breakdown periods.
Remember to order badges for any temporary staff you are employing to work on your stand.
Contractor Passes
If you have appointed a contractor to build your stand, we will liaise directly with them for their badges.

If you require contractor badges for your staff who will only be onsite during the build-up and breakdown, please place your order by completing and returning the Exhibitor Health & Safety Declaration and Risk Assessment with Contractor Passes.

All badges must be collected from the entrance to the show.

Vehicle Passes
Vehicle passes are not required.

Business Services
The Suntec Business Centre offers a full range of technology including personal computers, printers & free WiFi for your ease and convenience. Photocopying, printing, stationery, and courier services are available at the Business Centre located in the Venue Management Office situated at Level 3 of the Centre, Monday – Friday from 8.30am – 18.00pm. Please click here for more details.

Car Parking
Suntec City owns the biggest car park in Singapore with 3,100 lots across the entire development, with 24-hour access. A car park guidance system assists motorists in seeking out vacant lots quickly, while a mechanical parking system helps make full use of available parking space.
Monday – Friday

07:00hrs – 17:00hrs

Monday – Friday

17:00hrs – 07:00hrs

Saturday/ Sunday & PH

07:00hrs – 17:00hrs

Saturday/ Sunday & PH

17:00hrs – 07:00hrs

1st hour: $2.20

Sub ½ hour $1.10
Per Entry: $2.20
Per Hour: $1.10
Per Entry: $2.80
To buy parking coupons, please follow this link: https://www.cognitoforms.com/SuntecSingapore/CarParkCouponMarketplace?v2
Please click here for more information, or here for a helpful map.

Catering
Suntec City has a number of catering outlets and a Food Court Basement 1 to 3. Please click here for more information.
Exhibitors are not permitted to sell food or drink from their stands.
If you are intending to offer visitors the opportunity to sample your products, please see Sampling section.
Under no circumstances may exhibitors give away alcohol as hospitality (i.e. full sized drinks) unless this alcohol is purchased from the venue catering department. Other than exhibitor's own products, all other food and drink consumed on or given away from a stand must be purchased from the venue caterers:
Suntec Singapore Catering Services
T: +65 6825 2180
E: carol.chan@suntecsingapore.com
Click here to order Exhibition Booth Catering online
(EVENT CODE: SFFA2022)

Children
No persons under the age of 16 are allowed into the exhibition hall during build-up or breakdown. There are no exceptions to this rule.

Cleaning
Multitask Development Pte Ltd provides the basic stand-cleaning services which is included in the stand cost. Stands will be swept and hoovered overnight but the cleaners do NOT mop floors. Please contact Multitask Development direct if you have any special cleaning requirements, such as window/glass cleaning or scrubbing of vinyl floors.
Multitask Development Pte Ltd
T: +65 6788 1019 / 9456 7697
E: sales@mdpl.com.sg
W: www.multitaskdevt.com
All exhibitors should be aware that if they have a locked area on the stand - office or kitchen – that requires overnight cleaning or are using a night sheet they must surrender a DUPLICATE key to the Organisers office that will be retained for the duration of the show.
All gangways and common areas within the exhibition hall will be cleaned overnight.
You and your contractor are responsible for removing and disposing of excessive waste from the exhibition hall. Waste materials (e.g. carpet, carpet tape, construction materials, flooring, furniture, food waste and pallets) MUST NOT be abandoned onsite. Organisers are not responsible for the clearing of such rubbish and will pass on any costs incurred to the contractor or exhibitor should any "dumping" occur.
Please note that oil must not be disposed of in general waste bins, toilets or sinks. The organisers have arranged for an oil drum to be situated at the back of the hall (outside of the show). Please only dispose of oil here or take the oil away with you. For any further information please contact Ms Kayleigh Williams at Kayleigh.williams@montgomerygroup.com.
If you would like to arrange for the cleaning company to dispose of your waste, then please contact Multitask Develoment Pte Ltd. In particular, please note that the wholesale "dumping" of magazines and brochures at the end of the event will be charged for as this will incur skip costs from the venue. Please take them away with you.

Cloakroom

There are no cloakroom facilities onsite. All belongings will need to remain on your stand.

Code of Practice
During the open days please ensure your stand is manned throughout the day and all exhibits remain on display during the open hours. In order that no discourtesy is shown to last minute visitors, there must be no dismantling of any displays or exhibits before breakdown commences approx. 1730hrs on Friday 24 June.

Customs Clearance & Freight Forwarding
All goods to be imported for display at the exhibition must be declared to Customs at the entry point and must be covered by proper Customs documents. These documents should be retained at the exhibition as they are subject to Customs inspection onsite. Please refer to www.customs.gov.sg/businesses/importing-goods/overview.
Please note, the import of alcohol/wine and tobacco products is complicated, so it is recommended that DB Schenker be contacted in advance so that they can advise and assist you accordingly.
The exception for this is wine. As SFFA & RPBA 2022 is under the BEiS scheme from STB, this means wines (under Annex A) are exempt from duties and taxes, BUT it will be based on a maximum per label 2.25 litre per show day. All other excess bottles (including hard liquor) will have to pay the relevant duties and taxes depending on the HS code and as well as alcohol content. For further details please click here. If in doubt, please contact Ms Kayleigh Williams or  jea-hee.won@dbschenker.com.
For clearance of goods/ exhibits, please contact our official freight contractor for more information/advice:
DB Schenker
Ms Jea-Hee Won
T: +65 6549 1255
E: jea-hee.won@dbschenker.com
They can provide a complete package for the transportation of goods, which includes clearance, temporary import bonds, processing of ATA Carnets and re-exportation documentation. They can also give free advice on all aspects of import procedures and will provide you with a quotation on request.
Please follow the links below for more information:
Please follow links below for the order forms to complete and return to DB Schenker:
Delivery of Goods
No deliveries can be made prior to the first day of tenancy (Monday 20 June 2022).
If you are not bringing your products to the venue yourself, the Organisers recommend that you use the services of DB Schenker, especially if sending goods from overseas (see Customs Clearance). Private cars will not be allowed access to make deliveries. Using the services of a courier company can sometimes be precarious and packages could get delayed in customs.
All exhibits and materials must be delivered carriage paid to the exhibitor at the stand or to DB Schenker at the show. The goods should be clearly marked with your company name and stand number, as follows:
Attn: (add your company name and stand number)
C/O DB Schenker (add this if you have arranged to have your goods delivered to DB Schenker)
Show: (add the show you are exhibiting a e.g. Speciality & Fine Food Asia/ Restaurant, Pub & Bar Asia, Meat & Poultry Asia etc)
Suntec Singapore, Hall 403 – 405, Level 4
1 Raffles Boulevard
Suntec City
Singapore 039593
Please ensure that a representative of your company is onsite to receive and sign for deliveries. The Organisers are unable to sign for goods on your behalf. This is particularly relevant if you should decide to use a courier to deliver goods, who will often not leave them unless they have a signature.
If you are making deliveries during the open days of the exhibition, these can only be made between 08:00 – 09:30hrs, before the exhibition opens. You must receive confirmation that this is okay from the Organisers - please contact Ms Kayleigh Williams at Kayleigh.williams@montgomerygroup.com as soon as possible. Please note Suntec cannot take responsibility for any deliveries.

Dilapidations/ Damage to Hall
Please remember you are responsible for making good any damage caused to the fabric of the exhibition buildings - by you, your agents, or your contractors. It is in your own interests that you should satisfy yourselves as to the condition of your stand site before the building of your stand and after its clearance.
Please note, all Space Only/ Raw Space stands must complete the Performance Bond Form and return by deadline Tuesday 10 May 2022 via email to Sunyau Expo Pte Ltd on SFFA2022@sunyauexpo.com.sg. See more information under Space Only/ Raw Space Regulations – Performance Bond section.

Disabled Access
Each level at Suntec is accessible with wheelchair-friendly elevators. There are disabled parking bays available.


First Aid / Medical Emergencies
A first aid trained person will be onsite throughout build-up, open period and breakdown. They will be based in the back office of Hall 405 entrance. If you are unable to make it to this location, please visit or call the Organisers Office onsite on +65 87209729..


Forklift Services
Please contact our official lifting supplier to book forklift services:
DB Schenker
Ms Jea-Hee Won
T: +65 6549 1255
E: jea-hee.won@dbschenker.com


Gangways
During the build-up and breakdown periods, Emergency Gangways will be in operation and must remain completely clear at all times. Details of which gangways are affected will be issued prior to the show. Under no circumstances should any part of your stand, furniture, or exhibits etc. project beyond the boundary of your stand. Exhibitors should only work within the confines of their stand. No doors or windows shall open outwards onto an aisle. The exhibitor should not engage in any activity or employ any person or device that tends to create unreasonable congestion in the gangways in the opinion of the Organisers.


Gratuities

Neither Suntec staff nor contractors' personnel are permitted to accept gratuities for services rendered or a service to be rendered. Please notify the Organisers if any personnel solicit gratuities.


Hanging Signs/ Rigging

Drop wires are NOT permitted at the show. This rule applies equally to any rigging in stand construction, banners and lighting rigs.


Hotels & Travel

The official accommodation supplier for the show is World Express Travel Agent, who can offer a free service and have extensive knowledge in helping both exhibitors and visitors find the perfect accommodation. For details, please contact them directly:
World Travel Agent
T: +65 6336 3877
E: wxpmice@worldexpress.com.sg
Click here to view special hotel rates for SFFA 2022, if you would like to reserve a room/s, please contact World Express.

Exclusive Discount on Flights
Book your flights to Singapore with special rates on Singapore Airlines - the Official Airline for Speciality & Fine Food Asia and its co-located events.
Use promo code "SFFA2022" to enjoy special rates via this link - https://www.singaporeair.com/en_UK/sg/home#/book/bookflight


Insurance

Montgomery Asia Events Rules & Regulations require all exhibitors to have a minimum level of insurance cover (SGD 5,000,000 or equivalent) in order to participate in a Montgomery Asia event. Montgomery Asia Events do not provide the option to add a standard exhibitor insurance package policy to meet these minimum requirements.
Exhibitors who do not currently have the required cover may wish to buy insurance from Hiscox Event Assured. Exhibitors without cover are under no obligation to purchase the required cover in this way and we are not recommending you use Hiscox.
For further information on insuring your stand at the event or to buy an exhibitor insurance package policy, please go to https://www.hiscox.co.uk/event-insurance/exhibitor-insurance.

Please note that, as the main contracted stand-holder, you are responsible for any loss, damages, claims, etc. arising out of your stand and the activities of any stand-sharers at the Exhibition.
If there are other Companies sharing your stand, it is in your interest to ensure that they also hold adequate insurance cover.


Lost Property

Any lost property found should be deposited with our onsite security company (Fervour), please take it to the Organisers Office in the first instance. If you have lost anything then please report it to the Organisers Office and should the lost property be found, we will contact you.


Noise

Exhibitors creating excessive noise that disturbs adjacent exhibitors will be asked to reduce the sound to an acceptable level (a maximum of 60dB at the edge of your stand). If this is not complied with to the satisfaction of the Organisers, they will be asked to cease such activities in the interest of the overall exhibition.


Organisers Office

The Organisers Office will be located near the entrance. This will be manned each day during the build-up, open and breakdown periods from 0800 – 1800hrs (except Monday 20 June will be from 1200 – 1800hrs).
Organisers Office number: +65 87209729
*Please do not ring this number before 1200hrs on Monday 20 June. If you have any operational queries prior to this time, contact Kayleigh Williams on +44(0)207 886 3111.


Room Hire

Should you require a private area to entertain clients, hold meetings, etc. there are a limited number of hospitality suites available for exhibitors to hire for a fee at Suntec. If you would like to request a room, please contact Ms Kayleigh Williams on kayleigh.williams@montgomerygroup.com who will enquire with the venue.


Sampling Requirements and Conditions

For sampling requirements and safety regulations, please visit the Food Sampling & Safety Regulations section of the manual.
You will need to make sure that your stand staff comply with the current Singapore Food Agency (SFA) Regulations governing the handling and sampling of food products as detailed on the Singapore Food Agency Website and in the NEA Food Handler's Handbook.
Selling on stands is NOT permitted. Money exchange at Trade Shows is strictly forbidden.


Security

Security will begin at 1200hrs on Monday 20 June, with 24-hour security commencing from 8am on Tuesday 21st June. It is therefore recommended that portable exhibits are not delivered to the hall before this time. This cover (and our tenancy) will end at 0200hrs on Saturday 25 June, therefore it is essential that nothing of value be left on stands overnight on Friday 24 June; this includes product, graphics, and furniture or display items of any type.
Exhibition halls are vulnerable places, particularly during the build-up and breakdown periods. Your stand is an open shop without windows or doors. Please consider how you can look after your products and belongings whilst onsite.
Exhibitors requiring additional security for their stand should contact Fervour on +65 6759 1003.
Security Advice for Exhibitors:
Delegate one member of staff to be responsible for safety and security at the exhibition.
Do not leave cash, handbags, mobile phones, valuables, etc. in unlocked drawers, cupboards or on exhibits on the stand.Do not leave wallets or purses in unattended jackets or coats.
Do not ask a neighboring exhibitor to look after the stand as they may get too busy with their own stand.
Exhibitors should arrive prior to the official opening time and not leave their exhibition stand at night before visitors are clear of the show.
Check all lockable desks and cupboards before leaving the stand.
Any exhibitor with small valuables, which they wish to leave on their stand, should provide themselves with a lockable steel cabinet or other safe storage area.
Do not lock goods away in hired cabinets on breakdown evening.The furniture contractor will be collecting these items on Friday at 2200hrs.
Any exhibitor wishing to change their stand exhibits during the open period must do so between 0800 - 0930am daily. Contractor or exhibitor passes will be required for this period.
Please note that build-up and breakdown days are high-risk periods.Exhibitors are recommended to work in pairs so that the stand is manned at all times.Do not assume your goods are safe just because you have packed them up and have left the stand to get your vehicle.
Please report anything of a suspicious nature immediately to the Organisers office.
Please do not hesitate to check with the Organisers on any security problems or queries.
Exhibitors sustaining losses must notify the Organisers Office and the Security department immediately, giving all relevant information. Do not wait until you have cleared site.

Special Exhibits or Activities

Please note any company intending to exhibit cars, motorbikes, any engine driven vehicle (see also Vehicles on Stands), balloons, water features etc., or have activities on the stand not previously covered in this manual, such as massaging, tarot readings etc., must advise the Organisers in writing as special rules and regulations and licensing arrangements may apply.
For example, balloons may be used as part of the stand display. However, the topside of the inflated balloon must not exceed the stand build height limit of 4m, neither should it any time be released into the roof. Exhibitors are liable for any charges incurred whilst retrieving, or damage caused by, loose balloons.
With the exception of Guide Dogs, no animals are permitted in the exhibition halls at any time. Under no circumstances may live animals be used as a stand attraction or demonstration at this event.

Stand Sharers

It is essential that we know if, and how many, companies are sharing a stand. The stand holder is responsible for advising the Organisers of any company sharing their stand. To advise the Organisers of sharing companies please contact either Ms Doreen Soh, Sarah Nadhirah or Patricia Khoo.

Storage

Exhibitors wishing to store empty packing cases for the duration of the exhibition should contact our official lifting contractor directly for a quotation:
DB Schenker
Ms Jea-Hee Won
T: +65 6549 1255
E: jea-hee.won@dbschenker.com
By utilising the storage offered through the official contractor this will help speed up the breakdown procedure. DB Schenker will be able to deliver the empty packing cases to your stand before your own vehicle may have gained access to loading area, thus enabling you to continue packing goods and be ready for loading as soon as your vehicle arrives.
On no account should exhibitors store product or empty packing cases behind their stands as this presents a fire risk. Offending items are liable to be removed and destroyed without warning. All product storage, for the duration of the show, should be contained within the stand area. Alternatively, exhibitors can re-stock their stand each morning between 0800 and 0930hrs.
Please note that the Organisers are not able to provide accessible product storage for the open period of the exhibition.


Storage – Frozen & Chilled

If you require frozen or chilled storage, please complete and return the Lowe Order Form or contact Lowe Refrigeration. Please note that the Organisers are unable to facilitate free of charge space on the exhibition floor for cold storage units. If you enter into an agreement with Lowe part of their costs will be for the floor space (at the commercial rate).

Tool Kit

It is useful to remember to bring an 'exhibition' tool kit onsite that could include the following items:
| | | |
| --- | --- | --- |
| For Stand Dressing | Stationery | For keeping the stand tidy |
| Velcro | Pens / Pencils etc | Bin Bags |
| Double-sided tape | Writing Pad | Dust Cloths |
| Malleable Wire or String | Stapler | |
| Scissors | Marker Pen | |
If you think you will need a trolley, please bring your own as there will not be any available onsite.

Travel To Suntec

It is quicker and easier to travel to Suntec by public transport. Please click here for information on getting to Suntec.
Airport Transfer / Limousine Service
Suntec provides limousine services for guests and clients who are looking for private chauffeur services and airport transfers. Please click here for more details.
By Car
There are 4 access routes to Suntec City:
Raffles Boulevard (from Bras Basah Road)
Temasek Avenue (from Raffles Boulevard)
Rochor Road exit from East Coast Expressway (ECP)
Nicoll Highway
By Train / MRT
Located in the heart of the city, our Centre is easily accessible by three Mass Rapid Transit (MRT) train stations, namely Esplanade and Promenade stations via the Circle Line, and City Hall station via the East West Line. Click here for a map and further details.
By Bus
Suntec Singapore and Suntec City Mall are easily accessible by the following bus services. Depending on the bus service you take, you may choose to alight at any of the corresponding bus stops around Suntec: Suntec Tower Two/ Suntec Tower Three/ Suntec Singapore/ Nicoll Highway next to Suntec City Mall.
By Taxi
Getting around Singapore by taxi is easy and convenient. All taxis are metered, but be mindful of the peak hour surcharges, location-based surcharges (e.g. Changi Airport, Central Business District) and ERP (automated toll system) charges. Please click here for Suntec's recommended Taxi Operators contact details.

Vehicle Entrances & Loading Bays

There are three vehicle entrance doors for Hall 403 to 405. These are at the back of the hall, see Freight Doors shown below.
The show has been allocated loading bays 5 – 8 and service vehicle parking lots 10 – 15 as marked below. Please note, the loading bay has a height limit of 4m.
Freight Elevators Specifications:
| | |
| --- | --- |
| Weight capacity | 7000kg/ 7 tonnes |
| Interior Dimensions | 2.5mW x 4.35mD x 3.1mH |
| Door Size | 2.5mW x 2.8mH |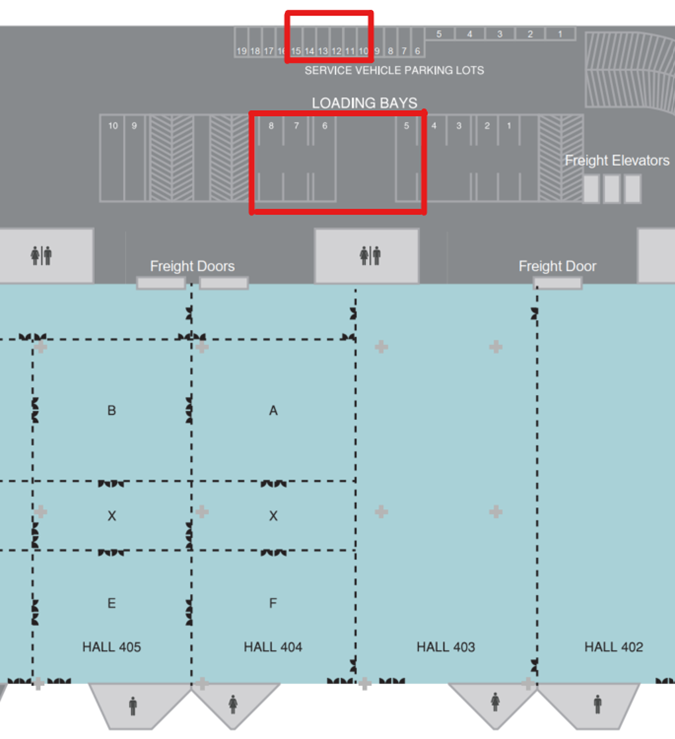 To access the loading bay, turn in from Nicoll Highway as indicated on the map below. Vehicles should proceed up the spiral ramp to their respective event floor - Level 4.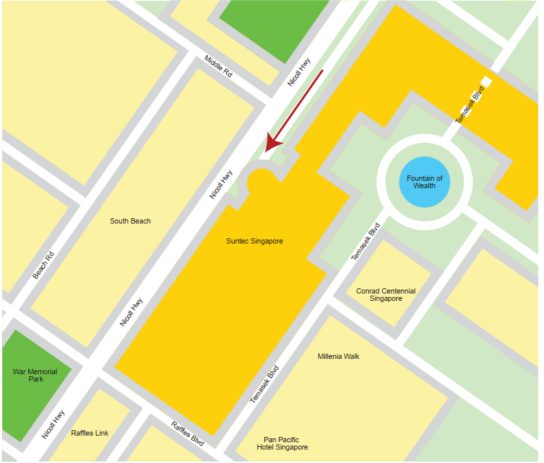 Vehicles on Stands

To display a car, bus, motorbike or any other vehicle on a stand, exhibitors must advise the Organisers by email to Ms Kayleigh Williams at kayleigh.williams@montgomerygroup.com no later than 20 May 2022.

Venue Address

(Add show you are exhibiting at e.g. SFFA/ RPBA/ SCTA/ MPA/ F2G 2022) 
Halls 403 - 405, Floor 4 
Suntec Singapore Convention & Exhibition Centre 
1 Raffles Boulevard,  
Suntec City 
Singapore 039593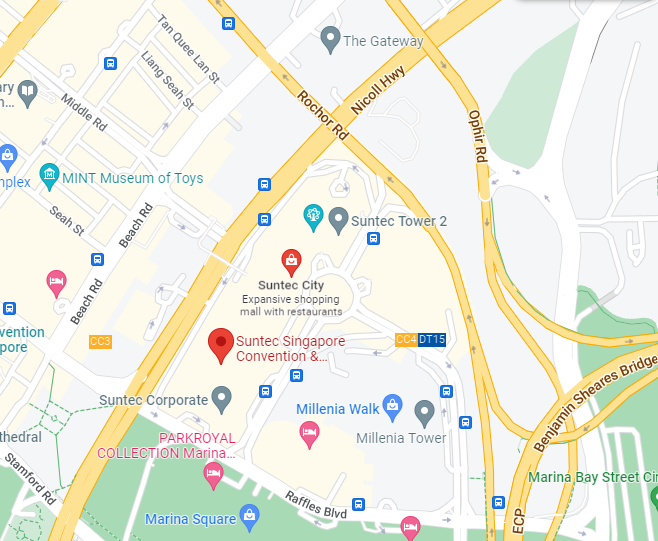 Visa Information
Exhibitors should ensure that all staff, artists and invited guests have a valid passport with at least six months validity, a booked return air ticket, a visa (if required), accommodation and sufficient funds for their stay in Singapore.
To find out if you require a visa to Singapore, kindly check with the Immigration and Checkpoint Authority of Singapore (ICA): http://www.ica.gov.sg
Most foreigners coming into Singapore do not require a visa for entry and may be given social visit passes for up to 30 days upon their arrival in Singapore. However, it is best to consult your local consular office for the latest information with regard to entering Singapore.
For visa application, please download the Visa Entry Application Form: http://www.ica.gov.sg

Wi-Fi
Suntec offer free unrestricted high speed Wi-Fi. Please click here for more information and how to connect.