22 Jun 2022
Speciality & Fine Food Asia and its four co-located F&B industry shows open their doors in Singapore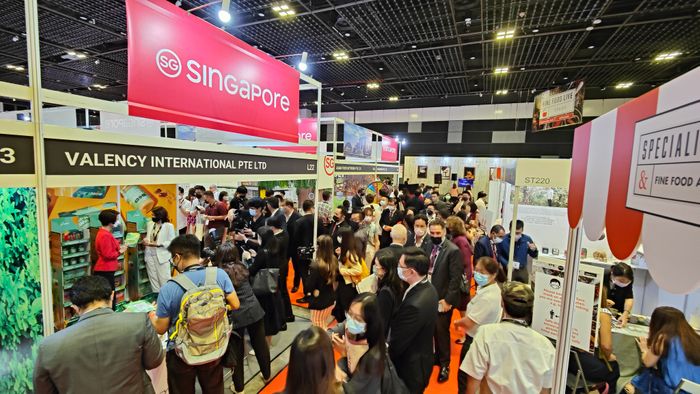 Speciality & Fine Food Asia and its four co-located F&B industry shows open their doors in Singapore
Held alongside co-located shows Restaurant, Pub & Bar Asia, Speciality Coffee & Tea Asia, Meat & Poultry Asia and Food2Go, SFFA 2022 is set to meet the business needs of the entire F&B spectrum
Singapore, 22 June 2022, 11:00 AM – Speciality & Fine Food Asia (SFFA), Southeast Asia's leading trade show for artisan, gourmet and fine food and drink, as well as Restaurant, Pub & Bar Asia (RPB Asia), kicks off today at Suntec Singapore Convention & Exhibition Centre. Running till 24 June 2022, this fourth edition of SFFA also celebrates the launch of three new co-located shows – Speciality Coffee & Tea Asia (SCTA), Meat & Poultry Asia (MPA) and Food2Go to bring wide-reaching content and value to the various F&B communities.
Organised by Montgomery Asia, this 5-in-1 megashow features over 700 international products and brands, and will welcome 5,000 attendees from 40 countries over the three-day period, with over 90% expected to attend in person. Individuals who are unable to join the event in person may network with exhibitors online via a virtual platform.
Guest of Honour Ms Low Yen Ling, Minister of State for Trade and Industry; Christopher McCuin, Managing Director of Montgomery Asia; and Victor Mah, President of the Singapore Coffee Association, addressed attendees in their opening speeches. Following the opening ceremony, two Memorandums of Understanding (MoUs) were signed between Montgomery Asia and SFFA 2022's strategic partners.
The first MoU, signed by Montgomery Asia, Singapore Coffee Association, Singapore Food Manufacturers' Association and Meat Traders Association, establishes the running of SFFA, RPB Asia, SCTA and MPA in Singapore for another two years. These co-located shows will provide a platform for all F&B industry players – restaurant, pub and bar owners and operators; speciality coffee and tea producers, roasters and traders; and meat and poultry suppliers – to convene and meet their business needs.
The second MoU, signed by Montgomery Asia and the Singapore Manufacturing Federation, marks the anchoring of launch event Food2Go in Singapore for a minimum of three years. Food2Go, the business event for F&B takeaway and delivery innovations, will bring the community together to learn about and purchase solutions in this fast-growth industry.
Christopher McCuin, Managing Director of Montgomery Asia, said, "With the resumption of in-person business events amid this new normal, we are excited to provide the F&B industry with a platform and much-needed opportunity to reconnect. The easing of Safe Management Measures, including the opportunity for food tasting, will help to further drive business growth and meet the sourcing needs of an industry hampered by the pandemic. We are also honoured to welcome an increasing number of local and overseas companies, several participating for the first time, and witness the support of leading industry associations."
The F&B Playground
Spanning three exhibition halls, The F&B Playground features over 700 leading brands and products, ranging from artisanal food and drinks, craft beverages, speciality coffee and tea products, to high-quality meats. Some participating brands include Eureka Sunrise, LAP Spirits Pte Ltd, Monde Nissin, Racewerks Pte Ltd, Thoughtful Food, Umami Meats, Lam Kee Fisheries, VektroPack and more.
Attendees can also discover innovative products from new-to-market companies, including Polobio SRL, Pour Beverages Pte Ltd, Lion City Meadery, UFisheries LLC and Baken Pte Ltd, at the Start-Up Village.
10 national pavilions are showcasing the latest and finest products from around the world, including countries such as Singapore, Australia, Belgium, Malaysia, South Africa, the United Kingdom, the United States and Uzbekistan.
Rufino Tiam-Lee, Chief Executive Officer of Monde Nissin Singapore, said, "Monde Nissin Singapore has been part of SFFA since 2017. After a two-year hiatus of physical events due to the pandemic, we are pleased to be back at SFFA 2022, this time proudly introducing our new products to industry players. We look forward to reconnecting with long-time partners and forging new ones from this event. We invite all to come by our booth (G02) – Green Protein Hub, to have a taste."
Monde Nissin will be introducing their new made-in-Singapore meat-free product line under the brand &SO (Andso) at the Fine Food Live Stage on 23 June 2022 at 11am. These convenient and exciting Asian cuisines are inspired by hawker food and local chefs, and made of a unique blend of plant protein and mycoprotein derived from a natural fermentation process.
Exciting fringe events and activities
Through a series of panel discussions, live demonstrations and tasting opportunities, SFFA 2022 provides all visitors and exhibitors with the opportunity to exchange knowledge and insights, and explore the latest trends and innovations.
Hear from industry experts at the Innovation Stage, which is packed with panel discussions on the latest trends around food delivery and takeaway innovations, as well as the latest tech disruptions and food innovations that are shaping today's F&B industry. Speakers include thought leaders from foodpanda Singapore, Deliveroo Singapore, Chope, Grab, airasia Super App, the Packaging Council of Singapore, and more
An exciting line-up of live demonstrations await at the Fine Food Live Stage, on which renowned chefs showcase the latest food preparation techniques and flavours. In a demonstration staged by Disciples Escoffier International, Koh Han Jie, Head Chef at Ce Soir Restaurant, and Neo Jun Hao, Head Chef at HUE Restaurant, will showcase cooking techniques using plant-based and seafood products. A series of Butchery Demonstrations, in collaboration with the Meat Traders Association, will bring together the US Meat Export Federation and Huber's Butchery in a display of the finest workmanship skills. The demos will provide a platform for meat professionals to gather and network.
To view the Innovation Stage and Fine Food Live Stage programmes, click here.
At the Tap Room, an exciting new concept to introduce refreshing brews to attendees, a range of craft beer and kombucha are available for tasting.
The Singapore National Coffee Championship (SNCC) @ SCTA is a key highlight of SFFA 2022. Staged by the Singapore Coffee Association, the SNCC comprises the National Barista Championship 2022 and Singapore National Brewers Cup 2022, with the winner heading to the Melbourne World Coffee Championships later this year.
Victor Mah, President of the Singapore Coffee Association, said, "We are extremely pleased to be working with Montgomery Asia to grow the coffee community through the launch of SCTA and staging of the SNCC here at SFFA. We are honoured to represent the coffee industry here in Singapore. We look forward to three days of connecting with the industry and coffee enthusiasts, and we trust that this will be a fruitful show for all."
Sukhdeep Singh, Director of Strategic Partnerships at foodpanda Singapore, said, "The pandemic has brought about significant changes in the way food products and services are marketed and delivered. SFFA 2022 is an opportune moment for the industry to re-gather and share the latest technological advancements and consumer trends, and foodpanda is excited to be a part of the conversation. As a leading delivery platform, it is important that we engage with key industry players so that we can better support businesses to adapt to changing consumer behaviour."
Partnership with The Food Bank Singapore
In line with Montgomery Group's environmental sustainability policy, SFFA has in place a special partnership with The Food Bank Singapore, Singapore's first food bank. They bridge donors and member beneficiaries by collecting and redistributing donated food, and currently serves more than 100,000 families and over 300,000 people with all kinds of food – from fresh to cooked. On the final day of the shows, exhibitors will be able to donate excess food to support the cause.
Well-supported by industry partners and sponsors
SFFA 2022 and its co-located shows are supported by a host of leading industry associations and brands. Event Sponsors include Asian Food Network, Baken, Bon Café, BUNN-O-MATIC, Cold One Beverages Dispense Solutions, Forever Young Enterprise, Fu Luxe, Hong Seh Evolution, Huber's Butchery, Jewel Coffee, Lam Kee Fisheries, Lowe Rental, Monde Nissin, Pour Beverages, Sphere Consumer Products Asia, Sunyau Expo, Teck Huat & Company, Untitled Untold and Vektro Asia.
Strategic Partners include the Meat Traders' Association Singapore, Singapore Coffee Association, Singapore Food Manufacturers' Association and Singapore Manufacturing Federation (SMF), and Supporting Partners include the ASEAN Coffee Federation, Disciples Escoffier International, Association of Catering Professionals Singapore (ACAPS), Food, Drinks & Allied Workers Union (FDAWU), Hospitality Purchasing Association Singapore, Republic Polytechnic (RP), Singaporean-German Chamber of Industry and Commerce (SGC), Restaurant Association of Singapore (RAS) and Packaging Council of Singapore (PCS), among many others.
SFFA's prestigious list of Supporters include the Singapore Tourism Board, the Singapore Exhibition & Convention Bureau, the Employment & Employability Institute, Singapore Airlines and World Express.
To attend as a visitor in-person, click here.
For the latest updates and announcements, visit www.speciality-asia.com.
###
About Speciality & Fine Food Asia and Restaurant, Pub & Bar Asia
Organised by Montgomery Asia, Speciality & Fine Food Asia (SFFA) is Southeast Asia's leading trade show for artisan, gourmet and fine food and drink. Restaurant, Pub & Bar Asia (RPB Asia), a co-located show, is the only trade show that caters to the needs of the independent and boutique bars, restaurants, pubs and hotels in the region.
Both shows seek to connect gourmet, innovative and unique food & drink producers and purveyors with decision makers in the retail, foodservice and hospitality sectors, providing companies an excellent platform to discover new trends, expand their business and reach the right buyers. The fourth edition of the shows will be held from 22 to 24 June 2022 at Suntec Singapore and will feature an expanded programme line-up including fringe events, competitions, as well as a more diverse range of chefs, bartenders and speciality food and drink products and technologies.
About Speciality Coffee & Tea Asia
Speciality Coffee & Tea Asia (SCTA) will create a platform for speciality coffee bean and tea leaf growers and producers, suppliers, roasters, traders, retailers and café owners from around the region to network and develop the industry.
About Meat & Poultry Asia
Meat & Poultry Asia (MPA) will highlight the unseen craft of the meat industry and build a wider community for meat suppliers, importers and traders to tackle challenges and share sustainable solutions for the future.
About Food2Go
Food2Go is the inaugural B2B F&B takeaway & delivery services event and one-stop sourcing platform for all your business needs in this fast-growth industry. Food2Go is the most targeted and focused business platform for you to expand the Takeaway & Delivery elements of your business in Southeast Asia!
About Montgomery Asia
Established in 2016, Montgomery Asia is a fully-owned subsidiary of UK-based Montgomery Group, one of the most widely respected exhibition companies in the world since 1895. It focuses on the growing Asian market, bringing the group's flagship events to this region as well as developing new trade shows that meet the needs of the Asian market.
Media Contacts:
Ariel Tan
Montgomery Events Asia Pte Ltd
ariel@montgomeryasia.com
Jo-Ann Teo / Glenn Tan
Blue Totem Communications (Singapore)
SFFA@bluetotem.co
+65 9873 7794 / +65 9658 5749